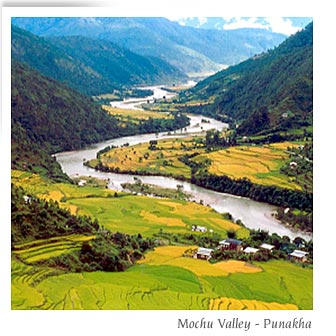 Introducing Bhutan
The Himalayan Kingdom of Bhutan is fast emerging from centuries of self imposed isolation. First opened to tourists in 1974 in a very regulated manner upon the Coronation of Bhutan's present King, this mountain kingdom is still perhaps the world's most exclusive tourist destination. Due to the Royal Government's far-sighted policy to preserve the country's pristine environment and its culture, the harmful effects of industrialization and mass tourism on environment and traditional life-style of the Bhutanese have been carefully avoided. This makes Bhutan a truly unique destination. An unspoiled country with majestic mountains (largely unscaled), a unique cultural heritage preserved for many centuries (Bhutan never having been colonized); an architectural style like no other; a land full of warm hearted and friendly people.
Situated in the heart of the great Himalaya, the world's mightiest range, Bhutan is flanked in the north and northwest by Tibet (China), the plains of northeast India to the south and southwest and the hill of India's north eastern state of Arunachal Pradesh to the east.
The kingdom is spread over an area of 18,000 square miles with varied climate conditions ranging form the hot and humid southern foothills to the temperate Inner Himalaya, and to nearly 7,700 meter high snow-capped peaks of the Himalaya that defines Bhutan 's northern frontier. Bhutan has a population of about 600,000 and its state religion is the Drukpa sect of Kagyupa, a school of Mahayana or Tantric Buddhism making it the last surviving Mahayana Buddhist Kingdom . Since its introduction, Buddhism has shaped the nation's history and plays a vital role in the everyday life of the people. Known for its undiluted culture and unspoiled ecology, Bhutan 's past is still its present and its religion still a 'way of life.'
Although as large as Switzerland , Bhutan's population is well under a million people, and its sparsely inhabited hill and mountain tracts are a natural paradise. In the central valleys, life goes on much as it has for centuries. The focus of communities, and the traditional seat of authority both spiritual and temporal are the dzongs, fortress- monasteries often clinging to impossibly steep mountain slopes, or ravines overlooking deep, clear rivers.
A Buddhist land, Bhutan's religious practices largely follow those of Tibet . Commemorative chortens dot the landscape while faded prayer flags are stretched around homes and monasteries. Red-robed lamas can be encountered on hill paths, turning prayer wheels as they journey across this rugged country.
Stretching from foothills on the Indian border to snow-clad peaks, Bhutan offers an unspoiled habitat for a huge variety of flora and fauna. As mountain streams tumble down steep, thickly forested mountain valleys they pass through thick belts of pine and rhododendron, oak and alder and, lower down, groves of bamboo and oranges. Small-scale farmers cultivate rice in terraced paddies and millet and barley on the higher slopes.