Kalimpong
Straddling a ridge between the Deolo and Durpin hills, Kalimpong is a quiet and peaceful town nestled at a comfortable elevation of 1,200 meters, which ensures a pleasant climate round the year. Conquered from Sikkim by Bhutan in 1706, its name supposedly comes from 'kaleon' and 'pong' meaning 'minister's bastion or fort' since it did have the presence of a Bhutanese governor for the period it remained under their rule. However, the Lepcha who were there long before are said to have called it 'kalibong' meaning 'the ridge where we play'. In 1865, after the Anglo-Bhutan War, British India brought it under their control on becoming aware of its vantage position as an outpost for trade with Tibet , which they did accomplish in establishing.
Till the early 1950's until China shut down Tibet 's border, Kalimpong flourished as a trading post. Trade with Tibet brought in caravans of musk, hides, furs, turquoise, coral, gold, herbs and minerals of medicinal value, and especially lamb wool. Soon large godowns were built where thousands found employment in sorting, drying and baling wool that came from Tibet . In exchange, the Tibetan traders took back cloth, tea, sugar and other food produces.
Alongside the trade with Tibet , the arrival of missionaries also saw to an early expansion of Kalimpong from a sleepy hamlet to a sizeable town that it is today. Schools and hospitals were established as early as 1873, and even till today the town's reputation as an educational center is known far and wide.
Of late, the descendents of early Newar settlers from the Kathmandu Valley with their keen sense for business have taken to floriculture. At a lower altitude than Darjeeling and with much less rainfall, Kalimpong has a different climate, one which has proved particularly suited to flower-growing. Indeed, the Kalimpong plant nurseries are famous throughout the world, while the hillsides in springtime are a vibrant testament to the rich natural environment of orchids and rhododendron.
Sites Around Kalimpong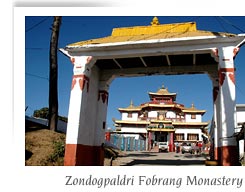 Kalimpong Haat Bazaar (Raja Dorji Market)
Best explored on foot, the main market place is a bustling beehive of human activity where vendors vie with each other to sell off their homegrown food produce. The 'haat bazaar' typifies the traditional open-air market, a venue where villagers from the surrounding area are allowed to set up temporary stalls.
Zongdogpaldri Fobrang Monastery
Consecrated by the Dalai Lama in 1976, this monastery has 108 volumes of the Kangyur brought by the Dalai Lama himself when he fled Tibet .
Dr. Graham's Homes
Established in 1900, by Rev Dr. John Anderson Graham to house and educate inter-racial offspring of British tea planters and local women who were disallowed admissions into regular schools by the society then, it is now an public school open to all. Of interest are the original buildings and chapel. The School celebrated its centenary in 2000.
Tharpo Choling Monastery
A monastery of the Gelukpa sect built in 1937 with donations from Tibetan traders paying homage to the gods for safely having crossed the treacherous trails.
Tongsa Gompa
The oldest monastery of Kalimpong built in 1692 by the Bhutanese during the occupation, and in their typical flavour.
Colonial Bungalows
Built by British traders during 'the Raj', these quaint houses are mostly found in the upper section of the town. They include Surya Sadan, Crockety, Galingka, Morgan House, Tashiding and Ringking Farm to name some. Of these, Morgan House and Tashiding have been converted as Tourist Lodges and are open to visitors.
St .Theresa Church
Built by local craftsmen to resemble a Gompa, it has wooden carvings on the walls of Biblical scenes but ironically all the characters are depicted in the attire of the Buddhist clergy.
Flower Nurseries
The flower nurseries of Kalimpong specialize in the cultivation of exotic orchid species, including other garden varieties such as gladioli, cacti, amaryllis, anthirriums, roses, gerberas, dahlias and a whole lot more.
Deolo View Point
At 1,914 meters Deolo Hill commands an excellent view of the town, the Teesta Valley below and the snowy ranges in the distant horizon.
Pedong
A small town 24 kilometers from Kalimpong. It has a monastery of Bhutanese origin that was built in 1837.
Lava
Surrounded by virgin pine forests and often hidden in mists and clouds at an altitude of 2,350 meters, this small village lies 34 kilometers away from Kalimpong on the old trade route to Bhutan . It has a beautiful monastery of Bhutanese origin and a Nature Interpretation Centre. Popular for nature exploration and bird watching, it is also the starting point for treks into the Neora National Park , which abounds with floral and faunal wealth.
Lolay Gaon
Also called Kapher, it is 25 kilometers from Lava, along a lovely forest drive. It has a heritage forest and offers fine views of the snowy Singalila Range .
Samthar Plateau
Scenic and remote, at an elevation of 1,400 meters, Samthar Plateau is 80 kilometers from Kalimpong, and 45 kilometers from Lava. It has breathtaking views of the snowy mountains, superb sunrise and sunset, picture post card hamlets, exotic flora, forests, mountain streams and river-pools, all far from the madding crowd. This is an area popular for nature hikes, angling, mountain biking and cultural explorations.
Neora National Park
A 4-day trek through forests and exotic flora of the National Park, culminating in the ascent of the 3,152 meter Rache La tri-junction, to view the Chola Range . Other activities include nature and culture exploration of the Rishi Valley and remote waterfalls. Altogether, a memorable experience.