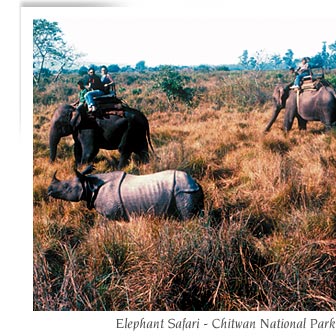 Chitwan National Park
Widely acknowledged as one of the best national parks in Asia, the Royal Chitwan National Park , with an area of 967 square kilometers, lies 90 kilometers (crow-flight distance) southwest of Kathmandu in the Inner Terai flood plains of the Narayani and Rapti rivers. Formerly a royal hunting reserve, Chitwan was the first forest area of Nepal to be designated a national park in 1973, and was later also declared a World Heritage Site by UNESCO in 1984.
Chitwan is a very popular wildlife safari destination on account of its thriving wildlife population and easy accessibility from both Kathmandu and Pokhara. Visitors have the opportunity of close encounters with wild three-ton rhinos on elephant back; a thrilling and frightening experience but not really dangerous as both the elephants and their handlers are well experienced in their work. The park is home to an immense variety of wildlife so there are a lot more other creatures to see besides the rhino. That, including good facilities for accommodation and jungle activities makes the Royal Chitwan National Park well worth a visit. Chitwan ranks third, after Kathmandu and Pokhara as the place most preferred by visitors.
Vegetation
Within the Terai floodplains and the Churia Hills (between 150 and 800 meters above sea level), the sub-tropical forests of Chitwan are host to a very diverse ecosystem. The predominant vegetation of Sal (Shorea robusta) covers around 70% of the forest. 20% is grassland, with as many as 50 species of grass plants. The most spectacular among these are the elephant grass, which attain heights up to 8 meters. Seven percent of the area is riverine forest in which we find Indian Rosewood (Dalbergia sisoo), Kapok (Bombax ceiba), and Acacia Catechu trees. The remaining 3% are the chirpine (Pinus roxburghii) trees that crown the upper ridges of the Churia Hills. Complementing the major vegetations is an immense variety of wild flowers, vines, creepers and parasites.
Wildlife
Of the 43 species of animals recorded in the park, there are an estimated 500 Great One-Horned Rhinocerii and a recent tally on tigers shows them to number 106 in all. In 1973, when Chitwan was declared a national park, there were less than 100 rhinos and only 15 to 20 tigers. With the support of the WWF and IUCN and the dedicated efforts of the park staff, the numbers of these two endangered species are now reaching a safe level.
Other resident mammals include the Leopard, Gaur (Indian Bison), Wild Elephant, Sloth Bear, Fresh Water Dolphin, Rhesus Monkey, Langur, Wild Boar, Striped Hyenas, Dhole (wild dog), Jackal, Ratel, Palm Civet, Mongoose, Four Horned Antelope, Sambar Deer, Spotted Deer, Hog Deer, and Barking Deer.
Chitwans crocodiles are by far the most spectacular species among the reptilian creatures. On bright sunny days, they can often be seen basking along the riverbanks. There are two species native to Chitwan, the Gharial and the Mugger. The Gharials are by nature non-predatory and thrive solely on fish, but the Mugger is an aggressive carnivorous beast. Other reptiles indigenous to Chitwan are the Indian Python, Monitor Lizard, Pangolin, Tortoise, and King Cobra along with 19 other species of snakes.
At least 485 different species of birds have been recorded inside Chitwan. The forests, grasslands, lakes, swamps, and rivers all provide a wide variety of habitat and food for the various species. Chitwan is a paradise for both birds and bird watchers.
Camps & Resorts
Among the many safari resorts and lodges in Chitwan, only a few have been authorized to operate inside the national park. Obviously, these "jungle-hotels" have the best amenities for wildlife programs. These are Tiger Tops, Gaida Wildlife Camp, Island Jungle Resort, Chitwan Jungle Lodge, Machan Wildlife Resort and Temple Tiger .
The theme on accommodation and activities in these camps are a blend of the native Tharu culture combined together with the opulence of the erstwhile British Empire . You may choose to stay in either the safari-style tented camps or in semi-detached twin-roomed huts (that are technically designated as lodges in Chitwan).
Camps and resorts inside the park offer package programs that range between 1 and 3 nights. These package programs include accommodation on full board, jungle activities, arrival/departure transfers to the nearest road-head/airport and all the requisite park fees.
A 1-night/2-day package is quite impractical due to the fact that much of both the days are spent in transit. However, the 2-night/3-day package is ideal while wildlife enthusiasts could even opt to go for a 3-night/4-day program.
Jungle activities on a 2-night/3-day program include an elephant safari, a canoe ride, nature walk, bird-watching, Tharu folk dances and a slide show on the history of the Park. The 3-night program is supplemented by a jungle drive, and that includes extra elephant and canoe rides. Meals are served table d'hôte in a variety comprising of Chinese, Continental and Nepali cuisine. The bars are generally well stocked, and besides offering drinks and cocktails, they will have a variety of souvenirs on sale.