Cultural Heritage of Sikkim
For over three centuries Sikkim was a Buddhist kingdom and cultural aspect of this land is largely dominated by this religion. The ritual chanting's by monks at prayer and devotion still resonate boldly from the cloistered halls of monasteries where on special occasions each year, their courtyards come to life with spectacular ceremonial dances - brightly costumed monks in bizarre masks cavort to the tune of ancient horns and drums. Just as Khangchendzonga the mighty protector deity reigns supreme above, Buddhism prevails on solid ground.
Sikkim has a multi-ethnic society comprising of three major groups, Bhutia, Lepcha, and Nepali. Recent migrations into the state include a sizeable number of Tibetans who fled their land in the mid-fifties, and business entrepreneurs from India predominantly of the Marwari and Bihari communities.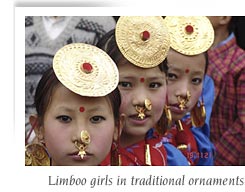 The majority of the Sikkimese Nepalese are descendents from the Rai and Limbu tribes of Eastern Nepal with similar cultural traits as that of the Lepcha, while Brahmins, Chettris and Newars who arrived from Central Nepal are true spirited Hindus.

The Lepcha of Sikkim and Darjeeling have mostly adapted to either Buddhism or Christianity. Very few adhere to the indigenous culture that has its roots in animism. Their animistic rituals consist of appeasing benign spirits and keeping malignant spirits at bay, which is done by a 'bongthing' who is priest, exorcist and physician all in one. Similarly, the Limbu has the 'yeba' (priest) and the 'yema' (priestess) who exorcise evil spirits, perform sacrifices, and supervise rituals.

The Bhutia with their ancestral ties to Tibet have remained true to their tradition and belief from the time they settled in Sikkim three centuries ago. Culturally, socially and linguistically, there is much in common between the Sikkimese Bhutia and the Tibetan.