Places of Interest in
South Sikkim
Sikkim's south district is relatively more populated because of a milder climate due to lower hills with more arable space for farming as opposed to the north district where the precipitous topography and chill factor rule out the possibility of cultivating grains. Here, the hills ascend to altitudes of 2,000 meters or less on an average. Only the extreme northerly portion of the district is mountainous.
Samdruptse - Statue of Guru Rinpoche
At a height of 135 feet, this collosal statue of the Buddhist Patron Saint of Sikkim is said to be the biggest of its kind in the world. Located in the woods of Samdruptse just four kilometers above Namchi, this newly erected monument is now a popular pilgrimage site for local devotees.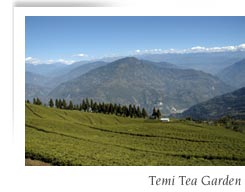 Temi Tea Garden
Established in 1965, Temi Tea Estate is built over the remains of an an old British bungalow built in the early 1900's. Temi's tender tea bushes are in their prime today and considered by many to be one of the best in the world. For over a decade now, its premium stock has been fetching record prices in the London tea market. The garden spreads on a gentle slope below Tendong along the highway leading to West Sikkim .
Tendong Hill
A symmetrical hill rising to a height of 2,640 meters, Tendong looks like a dormant volcano, and it could well be in view of the fact that during the course of mudslides exposed sections of earth around this hill occasionally reveal veins of lava-like elements. Its mossy virgin forest that includes flowering trees like magnolia and rhododendron is well worth exploring. From the top of the hill, there is an excellent view of the mountains and the plains of Bengal.
Rabongla
Straddled on a ridge at an altitude of around 2,400 meters, the sleepy little town of Rabongla offers stunning views of the mountains as well as deep river valleys that lie on both its flanks. The people of Rabongla take deep pride in their cultural heritage, and in recent times its residents have been reviving age old traditions such as the Pang Lhabsol (masked dances).
Maenam Hill
At 3,235 meters above sea level, this is the highest point on the ridge that divides Sikkim 's two major river systems, the Teesta and the Rangeet. Once again, this is a vantage point for great views into the horizon: northwards, the Himalaya and to the south are the plains of Bengal . 3,500 hectares around this hill has been demarcated as the Maenam Wildlife Sanctuary, a reserve for the Red Panda, Leopard Cat, Civets and several avifaunal species including the Blood Pheasant.
Borong
A picturesque village overlooking snow-capped peaks and situated below Maenam Hill, Borong is also known for its hot springs , the Borong TsaChhu.