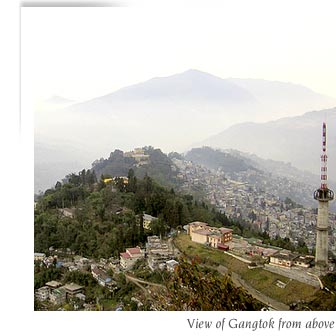 Places of Interest in
Gangtok and East
Sikkim
Gangtok aptly means "hill top" and the little capital of Sikkim is perched at 5,500 feet, high on the ridge of a valley. Overlooking Gangtok is an endless vista of hills that fade into the horizon in various hues of green, and towards the north-west Mount Khangchendzonga reigns supreme.
Directorate of Handicrafts and Handloom
In the workshops of the Cottage Industries Emporium, you can watch young students being taught the traditional art of thangka painting, along with weaving, wood-carving, and carpet making.
Dodrul Chorten
The Dodrul Chorten is one of the largest stupas in Sikkim and a very sacred icon to the Buddhists. The Venerable Trulsi Rimpoche built it in 1945 to ward off foreign invasion.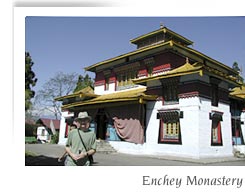 Enchey Monastery
This 200-year old monastery is an important seat of the Nyingmapa Order, and is built on the site blessed by Lama Druptob Karpo, a tantric master known for his flying prowess. Its annual chham (masked dance) is performed with great fanfare once every year around January.
Fambong Lho Wildlife Sanctuary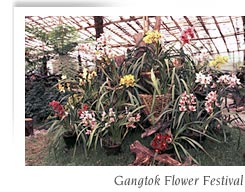 This is Gangtok's nearest wildlife sanctuary, only 25 kilometres away from the town with a designated area of 51,76 square kilometres. A tranquil area especially recommended for bird watching and for nature lovers, the forest cover include oak trees, chestnut, mulberry and thick bamboo groves.
Flower Show
The Flower Show venue is located near the White Hall below Mintokgang. Exhibitions are held during flower blooming seasons with the Spring Orchid Festival being the grandest show among all.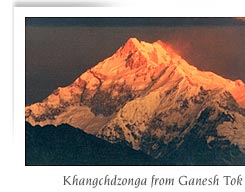 Ganesh Tok
At a road distance of 7 kilometres above Gangtok, Ganesh Tok offers a spectacular birds-eye-view of the town below and a spectacular panorama of the Khangchendzonga range in the horizon.
Hanuman Tok
Higher up, and 11 kilometres from the town, this is yet another view point for a majestic gaze into the valley below and the horizon ahead.
Himalayan Zoological Park
Also known as Bulbuley, this is a recently established zoo of Sikkim 's native faunal species. Situated 8 kilometres above Gangtok and spread over a sprawling expanse of 205 hectares, its inmates can roam around almost freely in a semi-natural habitat. Species in captivity include the Red Panda, Himalayan Black Bears, Spotted Deer and Barking Deer.
Namgyal Institute of Tibetology
in Gangtok is housed in a beautiful building, built in the traditional Tibetan style, with murals, decorated columns and a wonderful smell of beeswax polish from the creaky wooden floor.
Rumtek Monastery
Also known as the Dharma Chakra Center, the monastery is situated on a hill opposite Gangtok at a distance of 24 kilometres, a 45 minutes drive. Built as a replica of the original Karmapa monastery in Tsurpu , Tibet , this monastery replaced the seat of the Kagyupa sect from 1959 when the 16th Gyalwa Karmapa came into exile.
Pal Zurmang Kagyud Monastery
Situated in Lingdum at a distance of 20 kilometres from Gangtok, this monastery is the seat of the 12th Gharwang Rimpoche, a place worth visiting for its exquisite architecture.
Tashi View Point
Prior to the construction of road-heads to Ganesh Tok and Hanuman Tok, Tashi View Point was where one went for an early morning view of the sunrise over the mountains.
Tsomgo Lake (Tshangu)
This serene lake lies in the heady highlands towards the Tibet/China border 40 kilometres northeast of Gangtok at an altitude of 3,780 meters. The vantage height of this lake also offers a splendid view of the high Himalayas in the not too distant horizon.